From The Guardian: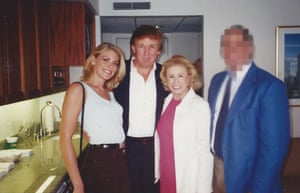 "I was in his grip, and I couldn't get out of it," she said, adding: "I don't know what you call that when you're sticking your tongue just down someone's throat. But I pushed it out with my teeth. I was pushing it. And I think I might have hurt his tongue."

Via his lawyers, Trump denied in the strongest possible terms having ever harassed, abused or behaved improperly toward Dorris.

Dorris, who lives in Florida, provided the Guardian with evidence to support her account of her encounters with Trump, including her ticket to the US Open and six photos showing her with the real estate magnate over several days in New York. Trump was 51 at the time and married to his second wife, Marla Maples.

Her account was also corroborated by several people she confided in about the incident. They include a friend in New York and Dorris's mother, both of whom she called immediately after the alleged incident, as well as a therapist and friends she spoke to in the years since. All said Dorris had shared with them details of the alleged incident that matched what she later told the Guardian.
Just like I feel about Bill Clinton, take them all down. Listen to these women!
Or take it from this little girl: